Together, we can help – h
ow to get involved
Every time a worker in, the oil and gas, construction, wind energy, transportation, material handling, and manufacturing industries across the US participates in a Crosby Group training event or completes the User's Guide for Lifting online training course in September or October, they can know that they are playing a part to help secure a better future for children of Veterans who lost their lives. There are a few ways you can get involved:


Participate in a Crosby or ACCO training event
The Crosby Group hosts in-person, instructor-led rigging training events throughout the US. Events include four- and eight-hour classroom-style seminars, safe rigging clinics at job sites featuring the Rig Safe, Rig Smart Truck, and multi-day seminars for private companies or the general public. Contact your Crosby area sales manager for more information. If you are interested in hosting a training event in your area, please complete the training request form >>
Take the online User's Guide for Lifting training course
Crosby's User's Guide for Lifting online course covers rigging fundamentals through a series of self-paced lessons that explain the Crosby User's Guide for Lifting pocket rigging card. The cost is $20. Five hours of professional development credit and a digital certificate is available upon successful completion. All proceeds in September and October will go to the Fallen Patriots. Begin the course today >>


Spread the word on social media & enter to win a weekly prize pack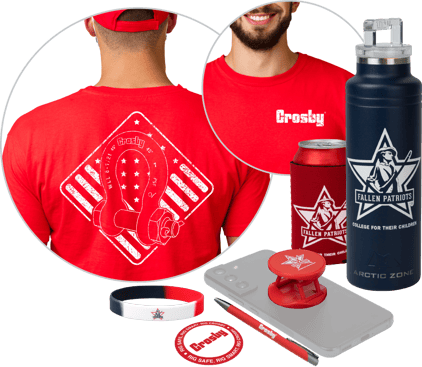 Help build awareness of this worthy cause and enter to win a prize pack valued at more than $75. To become eligible, post on social media a selfie from any Crosby training event or your User's Guide for Lifting digital certificate in September and October. Be sure to tag The Crosby Group and include the hashtag, #riggingforthetroops. A winner will be selected each week to receive a prize pack from Crosby and Fallen Patriots!*
Winners will be announced on The Crosby Group's LinkedIn, Facebook, Twitter pages.
Prize pack includes: Crosby t-shirt, Crosby hard hat sticker, Crosby pen, Fallen Patriots Arctic Zone water bottle, Fallen Patriots pop socket, Fallen Patriots can koozie, and Fallen Patriots wrist band.